FREE 2 Days Only: June 7 & 8, 2023, on Amazon.com
Free Kindle Version of The Life-Saving Divorce book
FREE 2 Days Only: June 6 & 7, 2023, on Amazon.com
Here's the link: https://amzn.to/3CCBsnr
FREE —> Free book: THE LIFE-SAVING DIVORCE, by Gretchen Baskerville. Free on Kindle, a $9.99 value.  It will give you clarity and support if you're Christian (or person of faith) in a destructive marriage. 
MARK YOUR CALENDAR. 
#freebook #freekindle 
Here's the link:
https://amzn.to/3CCBsnr
You do not need a Kindle device: You can read this on a smartphone, tablet, or computer by downloading the free app
—You DO NOT need a Kindle device.
—You DO NOT need to subscribe to Kindle Unlimited.
WHAT TO CLICK ON THE PAGE
Step 1) Click Kindle Unlimited (Don't worry, this will only take you to the Kindle page. It will NOT sign you up for a Kindle Unlimited subscription).
Step 2) Make sure it says $0.00 on the far right side.
Step 3) Click "Buy Now With 1-Click." (You don't need to enter a credit card.)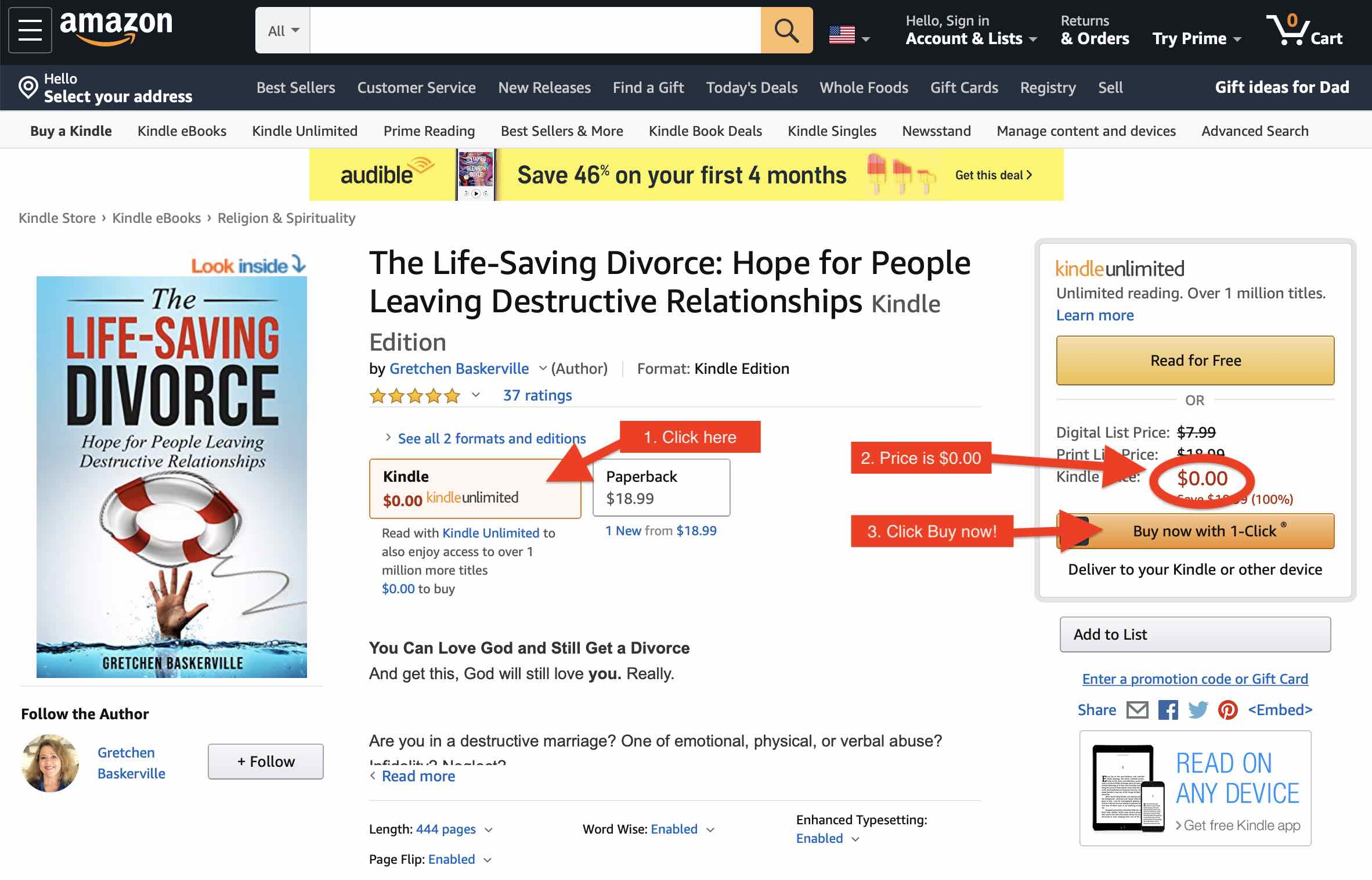 Good News! You don't need a special Kindle device to read this book. Kindle has a free app that works on your smartphone, tablet, or desktop computer. Just click HERE.
Are you going through a life-saving divorce and need support and clarity? I'd like to invite you to my private Facebook group, "Life-Saving Divorce for Separated or Divorced Christians." Just click the link and ANSWER the 4 QUESTIONS. This is a group for women and men of faith who have walked this path, or are considering it. Supporters and people helpers are also welcome.  I've written a book on divorce for Christians and other people of faith, The Life-Saving Divorce: Paperback: https://amzn.to/3cF1j25  Or eBook: https://amzn.to/3CCBsnr
Also, sign up for my email list below or HERE www.lifesavingdivorce.com/courage
-----
MOST POPULAR BLOG POSTS
Start Here
Does God Hate Divorce? God Gave Divorce Due to Hardhearted Abusers & Betrayers

Physical and Emotional Abuse & Infidelity
God Allows Divorce to Protect Victims

How to Find a Good Supportive Church
What If My Pastor Says It Would Be Wrong to Get Divorced for Abuse?
Divorce Saves Lives: The Surprising (Wonderful!) Truth About Divorce Nobody Told You
Will I Ever Find Love Again? Dating After Divorce: Good News
Finding Happiness and Health After Divorce
Thriving After Divorce: These Christians Tell their Stories

Self-Doubt, Second-Guessing Ourselves, and Gaslighting
Children and Divorce: Researchers Give Hope
High Conflict Divorce and Parenting
Recommended Reading List and Free Resources for Christians and Other People of Faith
Common Myths
FREE
FOLLOW
GET THE BOOK! The Life-Saving Divorce is about divorces for very serious reasons: a pattern of sexual immorality, physical abuse, chronic emotional abuse, family-impairing addictions, abandonment, or severe neglect. This book will give you hope for your future, and optimism about your children. As an Amazon Associate I earn from qualifying purchases.
Sign up for the Life-Saving Divorce email list for helpful insights and tips. (You can unsubscribe anytime.)