Wow! Thank you! Today you guys put my book on the best-seller list for Amazon's Christian Counseling & Recovery category. The Kindle version of "THE LIFE-SAVING DIVORCE" is free today and tomorrow (January 27-28, 2021)
Free Kindle giveaway launched "The Life-Saving Divorce" to #1 in the category
Two Ways to Read this Book
1.  The FAST way.
Just read the Introduction and Chapter 1, then jump to the topic you want.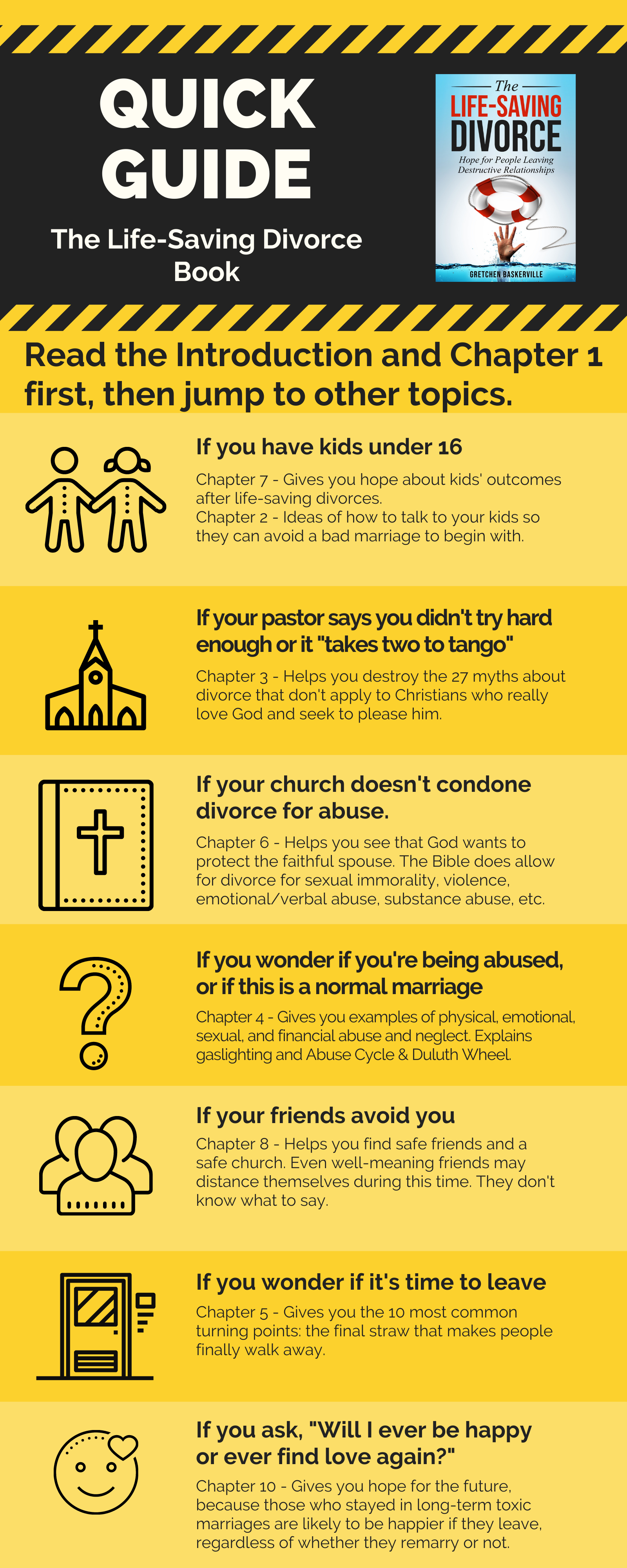 Two Ways to Read this Book
2.  The SLOW way.
Read the book and fill out the study guides as you go!  Then enjoy the videos of the author explaining each chapter.
FREE! Download the Study Guides!
Click to download the free chapter-by-chapter study guides.
FREE! View the VIDEOS
Video of the author explaining each chapter.
---
Are you going through a life-saving divorce? I'd like to invite you to my private Facebook group, "Life-Saving Divorce for Separated or Divorced Christians." Just click the link and ANSWER the 3 QUESTIONS. This is a group for women and men of faith who have walked this path, or are considering it. Supporters and people helpers are also welcome.  I've written a book about spiritual abuse and divorce for Christians. Also, sign up for my email list below.
50 MOST POPULAR BLOG POSTS
Start Here
Physical and Emotional Abuse & Infidelity
God Allows Divorce to Protect Victims
Does God Hate Divorce? No, Most English Bible Translations Don't Say That

How to Find a Good Supportive Church
What If My Pastor Says It Would Be Wrong to Get Divorced for Abuse?
Divorce Saves Lives: The Surprising (Wonderful!) Truth About Divorce Nobody Told You
Will I Ever Find Love Again? Dating After Divorce: Good News
Finding Happiness and Health After Divorce
Thriving After Divorce: These Christians Tell their Stories

Self-Doubt, Second-Guessing Ourselves, and Gaslighting
Children and Divorce: Researchers Give Hope
High Conflict Divorce and Parenting
Recommended Reading List and Free Resources for Christians and Other People of Faith
Common Myths
FREE
FOLLOW
GET THE BOOK! The Life-Saving Divorce is about divorces for very serious reasons: a pattern of sexual immorality, physical abuse, chronic emotional abuse, life-altering addictions, abandonment, or severe neglect. This book will give you hope for your future, and optimism about your children. As an Amazon Associate I earn from qualifying purchases.
SIGN UP below for the email list for find out about helpful new blog posts, videos, and FREE Kindle book giveaways.